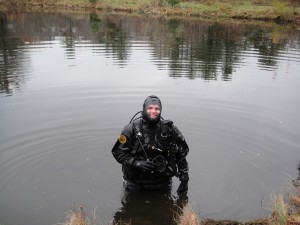 The diver will be back to retrieve your sunken treasures in May.
Keep in mind that our diver is the only person authorized
to enter the ponds on the Property!  
You are not allowed to swim, dive, step, jump into
or otherwise enter the ponds on this Course.  
If you are caught in the ponds you will be removed
from the Course and may face charges of Trespass.  
KEEP OUT OF THE PONDS!!!
To date, we have returned more than
14,000 discs FREE of charge!!!
While Chris recovers more than 1,000 discs each dive, it is simply impossible to get them all.  
When you see the piles of discs in our kitchen area, please do not ask whether your disc has been found until we have completed washing the pond scum & muck off the discs and logged them into the Excel spreadsheet.  This is a time consuming task but we typically get it done within a week. We promise to give them to you as soon as we can get this done! 
Due to the high volume of discs recovered each dive, we are now using an automated system to make calls to those who have written their telephone number on their disc.  If you receive our call, please listen to the message and then come by to reclaim your disc free of charge.  There is a donation jar available for any amount you wish to contribute.
We keep discs for 1 year from the date of recovery.  If you choose not to come and pick up your disc in that time frame we will remove it from our system and Clubhouse.