Sunday August 14, 2016
FLEX Start 9 a.m. – 3 p.m.
"Trilogy" is the term affectionately given to three of the leading disc golf manufacturers: Dynamic Discs, Latitude 64º Discs and Westside Discs.
The Trilogy Challenge is a fun event for players of ALL skill levels
as each participant receives a Player's Pack
with 3 brand new unreleased molds of discs at Sign In
the day of the event, leveling the playing field.  
It's a wonderful way to test new discs at a real savings as well
as enter the competitive arena with a much less stressful
event than a traditional tournament. 
3 DISCS—3 DIVISIONS— 3 PRIZES
$37 Entry fee includes Greens fee as well as Players Pack valued at $60
Player Pack Includes:
Latitude 64 driver: Opto Falchion  (9/6/-1/2)
Westside Discs Mid-Range: Tournament Sling (5/5/-1/1)
Dynamic Discs Putter: Prime Marshal (3/4/0/1)
Trilogy Mini
Trilogy Towel
Dynamic Discs Wristband
Scorecard and Pencil
3 DIVISIONS: Experienced, Beginners & Ladies.
(If your average score is less than 58, you're EXPERIENCED!)
3 PRIZES: We will award prizes to the Top 3 of each Division!
If we receive pre-registration of at least 100 players,
Dynamic Discs will send a NEW Marksman Basket.

We will have a Random Drawing for this basket!
No skill needed to win the basket, just luck
and participation in this fun event.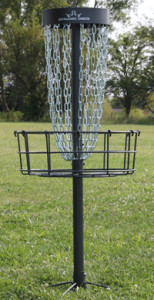 RULES:
1. You must play this 1 round event using only the 3 discs in your Players Pack.
2. You may begin your round between 9 a.m. and 3 p.m.
3. You must have at least 3 but not more than 5 Tournament participants playing their tournament round on your scorecard.
4. Your round will be timed. You will have 2 and a ½ hours to complete your round and turn in your scorecard. Time begins when the first player on your card takes their Player's Pack.
5. Prizes will be awarded to at least the Top 3!